There's no denying, Florida in the summer can be oppressive. Clients often come to me excited to experience the joy of a Disney vacation, but share with me the trepidation they have about waltzing through Fantasyland on a 101° day. Preparation is key to making the most of your valuable family time together. When I send clients on magical adventures to Walt Disney World I always prepare them with the following tips and tricks.

ENJOY THE PARKS IN THE EARLY MORNING AND LATE EVENING
Starting your summer Disney days early and taking a mid afternoon break is essential. When the day is at its hottest, head back to your hotel. The pools at Disney resorts are fantastically embellished, often interactive and not to be missed. This is also a great opportunity to recharge with an afternoon nap if that's your cup of tea. Either way, you'll be refreshed and ready for everything the evening has in store. For guests staying at Disney resorts, extra magic hours (additional time in the park early in the morning or late in the evening) are a great way to take advantage of the lower temperatures. Insider tip: Magic Kingdom allows guests into the park one hour before the scheduled park opening time. Guests can wander along Main Street USA as they wait for the daily opening ceremony. At the scheduled opening time, Disney will rope drop the rest of the park and you will be one step ahead of the crowds.

CATCH THE WATER ATTRACTIONS
Casey Jr. Splash N' Soak Station in Magic Kingdom is a great way to provide cooling relief to the younger members of your party. On our travels I found that my children have little patience for the unrelenting nature of the sun and are more prone to meltdowns over the weather. Although I can't control the fact that it's 98°(contrary to what my small children believe), I do come prepared with swimsuits in tow. There's no height requirement so even the smallest of crawlers can enjoy this fun area. For older kids and kids at heart there's always Splash Mountain and the Kali River Rapids in Magic Kingdom and Animal Kingdom, respectively. Pro tip: if water rides are in your future take a change of socks to avoid walking with wet feet. Nothing worse than being taken down by a blister!

HYDRATE WITH FREE WATER
Dehydration is no joke. It's so easy to get caught up in the hype and neglect the most basic of life's needs. Pack your lightweight refillable water bottle (Mother Earth thanks you), save some money and take advantage of the FREE ice cold water at the counter service locations throughout the parks. You heard me right. Free! At Disney World. You're welcome. Ps. Mix up your water game at Club Cool, in Epcot. This station lets you sample soft drinks from around the world. One highlight with insider buzz: The Beverly, a non-alcoholic bitter, citrus Italian apéritif.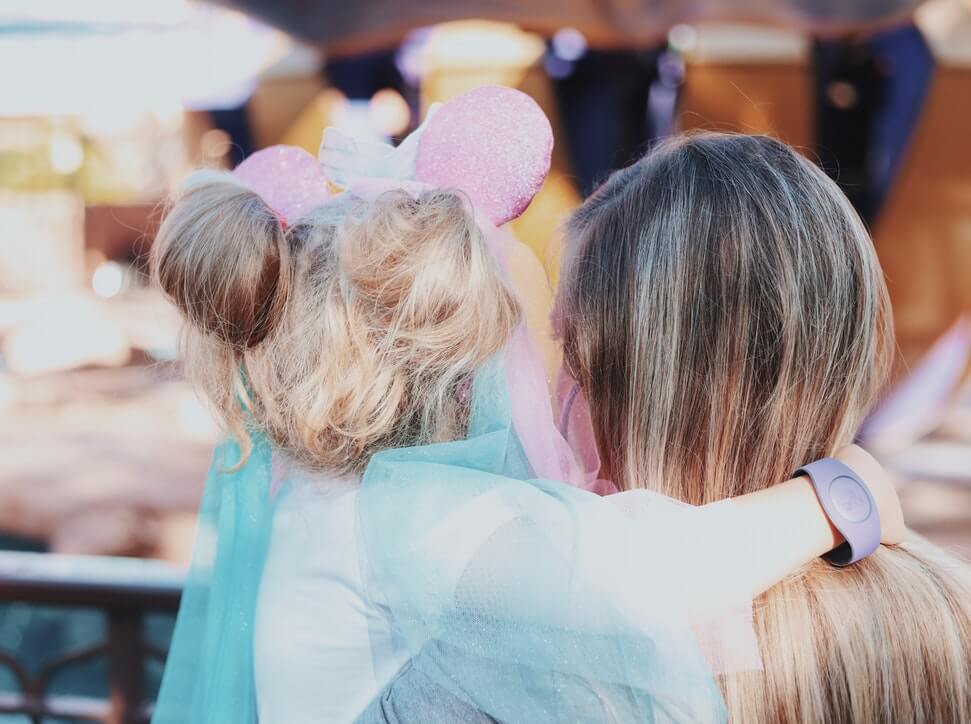 CREATIVE COOL OFF
Intense heat can inspire the most creative of cool down solutions. I'll share my family's top three tried and true out of the box ways to beat the heat. Inevitably we are going to be standing in the breeze-less, Florida sunshine. When that's the case, we create our own breeze with a personal misting fan. I personally love the smaller versions for their minimalistic portability. If we need to go one step further, we break out our cooling neck gaiter (which Fancy Nancy would point out is a fancy word for scarf). It utilizes cooling technology and can be worn in a variety of ways. Both of these items are available inside the parks, but buying them ahead of your trip will save you mega money. Finally, a solution we've just recently added to our cool down repertoire is the peppermint essential oil roller ball by Doterra. One roll along the temples or the back of your neck creates a cooling effect that offers instant relief.

WEAR SUNSCREEN
A trip to Disney is an investment. Don't let something as trivial as a sunburn keep you from taking full advantage of valuable Disney time. I highly recommend the sunscreen sticks. They won't count towards your liquids at the airport, they're highly portable and easy to slather on throughout the day. Plus, your 60-year-old self will thank you. And while we're on the subject of skin, it doesn't hurt to incorporate light-colored, moisture-wicking clothes. "I love boob sweat!" said no one ever!

AVOID PEAK CROWDS
Crowds during the summer holidays can often reach peak capacity. Make no mistake, there will be lines. There are great attractions that offer A/C, but when the crowds descend, you may be waiting for your day in the shade. If avoiding crowds isn't possible, your best defense is to plan early, strategically mapping your fast pass selections and advanced dining reservations. My final pro tip for a crowded park: mobile ordering. Around mealtime, stake out your table and place your food order through the My Disney Experience app. Enjoy a rare moment to escape the whirlwind and allow everyone to recharge. No more standing in line with screaming babes.

EXPERIENCE THE WATER PARKS
Disney has two amazing water parks: Blizzard Beach and Typhoon Lagoon. Consider spending a day zipping down the water slides or relaxing in the lazy river. Each water park has different features and thus appeals to different age groups. Typhoon Lagoon has the edge with "the littles" (smaller children under 5). Here you'll find a more interactive play zone for younger children while children a "bit bigger" tend to favor Blizzard Beach. Blizzard Beach has Ski Patrol Training Camp, a zone specifically designed for kids ages 5-12. This area has moderate level slides, a zipline-over-water experience, and a faux iceberg crossing experience. If you have a family with a mix of ages I suggest tag teaming and scheduling meet up windows to reconnect (since you most likely won't have the convenience of a cell phone).
At the end of the day the best advice I can give you is to know your limits. You know your family better than any columnist writing a summer survival guide. For some families, there's no creative cool off in the world that could get them down south, even for Mickey. For others, a little preparation and planning is all you need…your suitcase is already packed.