Before giving birth to my son, I spent my time-off hiking, kayaking, and camping. This all changed when I became a mom.I would now be spending my time learning my role as a mother while attempting to work through the everyday tasks at home.With all of the changes in my life I did not know how I would find the time to get outdoors. However, I soon realized my outdoor adventures did not have to stop after having children. Spending time in nature is a part of who I am and a value I plan on passing down to my children. Hiking is a wonderful way to recharge, explore and connect with nature.
I was determined to get outdoors again, but I didn't know where to begin. I wanted to hike, but I found the task of taking my infant son daunting. I put our first hike off for a few months. My excuses piled up; "I didn't have the time," "I have too much to do around the house," "I am going to forget something," and so on. What I needed was a little push and a clear direction to take. Once I took our first hike I was finally able to relax. I learned to make the time I needed and let the dishes and laundry go for the day. We all deserve time outdoors to clear our minds.
Here you will find some tips to get started and a list of what to pack.
What Carrier?
If your child is 0-6 months stick with a front sling or wrap. Once your child is able to sit up on their own you can move into a back carrier or backpack. If you are going on a more strenuous hike stick with a backpack, this will help protect your back and keep your child away from your body keeping you both cooler.
Always get your child used to your new carrier, especially a backpack. Bring your family into the store and try it on with your baby in it. This will assure that you pick what works best for your family. After you have found the pack that is right for you, take a walk down the street and repeat until you and your little one are comfortable.
Take It Slow
I recommend starting with a paved path or a greenway. This gets you outside and your little one used to a new environment. You could use a front sling or wrap to carry them or take a jogging stroller.
Next, plan your first hike. If you are anything like me you may be tempted to go on your favorite trails and hike for 2-3 hours. For your child's sake cut this down to 30 minutes to 1 hour. Plan for a 10-15 minute break for a diaper change and snack break. All children are different and some take to hikes quickly, while others take longer. Bringing a friend or family member on your hikes is a great way to ease your initial nervousness.
Once these small trips feel comfortable extend your hikes by 30 minutes or so and plan for a 30-minute lunch break. I find that longer hikes are perfect during nap-time. The swaying of my body rocks him to sleep and his schedule isn't interrupted.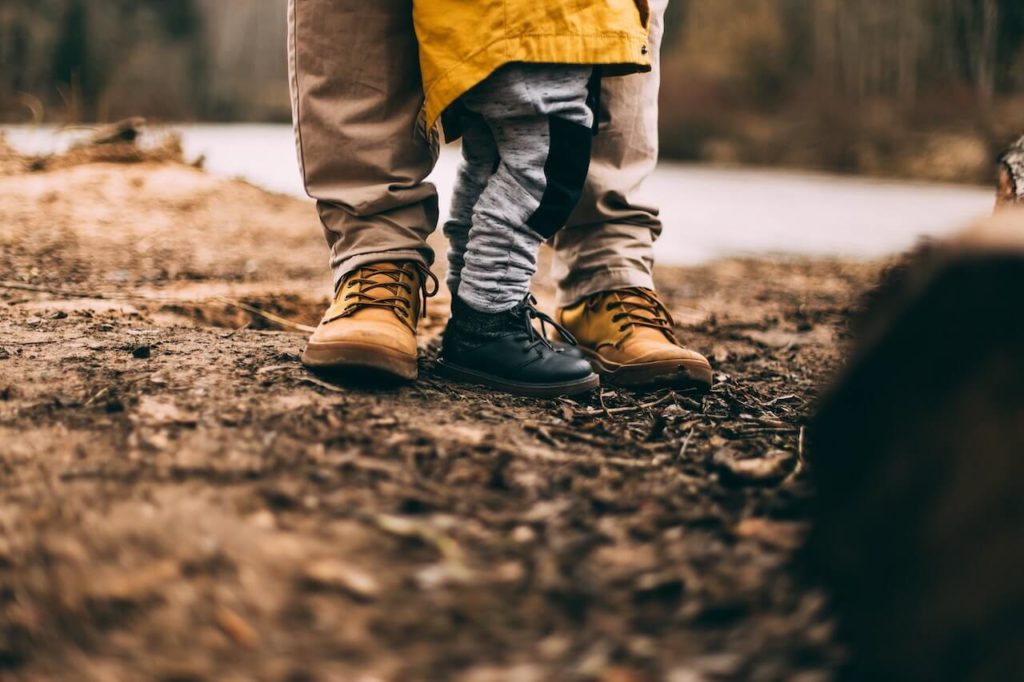 Check the Weather
We live in Tennessee where the weather changes daily. This week it has been sunny and 80 degrees and now it is raining and in the 40s. Always check the weather and be prepared for shifts in temperature and the possible shower. You are better off over-prepared than finding yourself running back to the car in the rain. (This comes from experience.)
What To Pack
Snacks: The best snacks vary from family to family. I tend to pack fruit, to help with hydration and something crunchy like a teething wafer or cereal. If we are stopping for a lunch, sandwiches are wonderful. We've also made our own yogurt pouches too. Aim to have these prepped the night before to save time in the morning.
Water/ nursing/ bottles: Bring enough water for you and your child. I always leave more in the car for the ride home. If you are a nursing mother, a front sling allows you to nurse while hiking. Or if you are using a pack plan a break to nurse. For formula-fed babies I recommend bringing an extra bottle of formula and a separate bottle for water to assure that your child is staying hydrated.
Diapers: If you are keeping your little one hydrated they may use a few more diapers than normal. Don't forget wipes, ointment and a small grocery sack or wet-bag to carry them out of the park. 
Sunscreen: Your little one's skin is sensitive to the sun and will need to be protected with a good sunscreen. You can also look into UV protected clothing for added coverage.
Repellant: Insect and bear spray depending on where you are regionally
Small toys: A rattle or bubbles are a great way to entertain along the way. We use toys that clip well to our carrier to prevent them from getting lost.
First Aid: 
This is often overlooked for casual day-hikers. Honestly I kept mine in the car when I hiked by myself. When we take our children out this is a must have. Make sure you take care of yourself and them. I stick with a basic first aid kit for day-hikes at the moment. When my little one starts walking and takes to the trail I will add more to this. You can make your own or purchase a pre-made kit.
First Aid Kit:
Basics:
Anti-inflammatory
Antibiotic ointment
Tweezers
Bee-sting kit
First aid scissors/ bandage scissors
Antiseptic wipes
Hand sanitizer
Bandages:
Gauze
adhesive bandages
Medical tape
Blister pads
Athletic tape
Special Needs:
Epi-pen
Blood glucose meter
Prescription medications
What To Wear
If it is cold outside dress your child warmer than you will need. Infants cannot regulate their temperature efficiently, you may be warm but your little one isn't moving like you are. If it is getting warmer outside bring a light jacket for them just in case. Once spring is in full bloom or you are planning to hike during the summer dress them in layers. This way they can shed some of these if needed. A hat with a brim that covers their neck is important. Some carrying packs have a sun cover for added protection but this is not necessary. Whether your child spit up, got sweaty, or snack time got a bit messy, a change of clothes makes a world of a difference.
Explore And Connect
Spending time in nature is, in my opinion, the most important aspect of a family hike. There are countless options to introduce your child to their natural environment, even when your child is under 1. I find that nature opens more possibilities to learning than staying indoors. Nature is uncontrolled, we don't know what we will see each time we go out. If you see an animal, point it out to your child. Imitate its sounds, talk to your child about what they eat and how they move. Your child won't understand everything you are saying, however over time you are introducing more vocabulary and providing context that a book isn't able to.
Now that you know the basics, take that first step, get out there and hike!